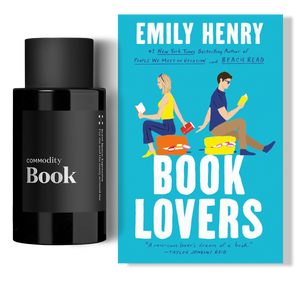 "It's the same subtle gender-neutral cologne I wear. A cedarwood and amber blend called BOOK, meant to summon images of sunbathed shelves and worn pages."
– Book Lovers by Emily Henry
Our bestselling Book Expressive fragrance paired with a complimentary, signed copy of Book Lovers, the New York Times Best Seller that brings it to life.

Plus, a personal letter from the author, Emily Henry, exclusively written for Commodity—and Book—fans.
Read about Book Lovers below.
Such a good idea!
I wanted to buy Book for a while, and when I saw this collab I knew this was a sign from the universe. I am OBSESSED with Book Lovers and had been wondering if this was really the perfume Nora & Charlie are wearing. Now I can channel my inner Nora AND I also have the signed book. I'm honestly over the moon.
Book Lover
It smells great and it lasts all day long! I love it, and the book with the autograph… simply gorgeous! Since I read Book Lovers I've wanted to find that perfume described in the book and I must say Book didn't disappoint. It's incredible!
I love this scent!
This scent is so amazing and sticks to my skin so well and it such a nice smell. I was worried it would be overpowering but it is perfect for your senses and the people around you.
Fantastic scent for the fall
This fragrance is dark, broody, and mysterious. Think of spending a nice cool day in a cabin snuggled up with a blanket and a book and you'll have Book.

About Book Lovers
One summer. Two rivals. A plot twist they didn't see coming…
Nora Stephens' life is books—she's read them all—and she is not that type of heroine. Not the plucky one, not the laidback dream girl, and especially not the sweetheart. In fact, the only people Nora is a heroine for are her clients, for whom she lands enormous deals as a cutthroat literary agent, and her beloved little sister Libby.
Which is why she agrees to go to Sunshine Falls, North Carolina for the month of August when Libby begs her for a sisters' trip away—with visions of a small town transformation for Nora, who she's convinced needs to become the heroine in her own story. But instead of picnics in meadows, or run-ins with a handsome country doctor or bulging-forearmed bartender, Nora keeps bumping into Charlie Lastra, a bookish brooding editor from back in the city. It would be a meet-cute if not for the fact that they've met many times and it's never been cute.
If Nora knows she's not an ideal heroine, Charlie knows he's nobody's hero, but as they are thrown together again and again—in a series of coincidences no editor worth their salt would allow—what they discover might just unravel the carefully crafted stories they've written about themselves.
Named a Most Anticipated Book of 2022 by Oprah Daily ∙ Today ∙ Parade ∙ Marie Claire ∙ Bustle ∙ PopSugar ∙ Katie Couric Media ∙ Book Bub ∙ SheReads ∙ Medium ∙ The Washington Post ∙ and more!
More of Book
Book-

Book+

Book Scent Space Kit